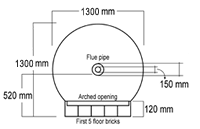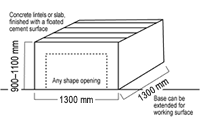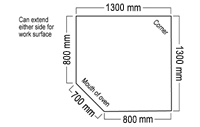 DETAILS
Manufactured in high quality refractory cement and fire brick
Heavily insulated
All materials are made locally
Exclusively wood burning
Finished in terracotta clay and can be painted when dry


INSTALLATION
Supplied in kit form or fully installed subject to a quote.
One day installation period and operational on same day.
Can be installed inside or outside.
To be installed on a base with a minimum size of 1300 mm x 1300 mm x 1000 mm high.
The top surface of this base should be a concrete slab with reinforcing or lintels with a floated cement finish.
An expansion joint around the lintels is recommended.
Refer to diagrams alongside for measurements.

DIY INSTRUCTIONS

PARTS
Floor bricks set into three cement slabs.
Inner oven, two halves: front half with hot air tunnel. Both made from refractory concrete.
Mouth arch in brick for oven opening.
Insulation.
Cement for all joins. Mix WITH WATER ONLY in small quantities.
CONSTRUCTION
Float the 3 floor slabs on a 10 mm to 15 mm layer of sand. Brick touching brick, no cement or grout.
Position the 'front half', as per pen marks on the floor. Bring the 'back half' of oven to meet the front.
Put the arch in position, 'touching' the arch opening at the front of the oven.
Cement closed all joins.
- Oven floor to concrete slab (remove excess sand).
- Oven to fire bricks, outside and inside. Inside use a wet sponge so that the cement is 'in' the join, not exposed.
- Oven front half to back half, cement outside only.
- Mouth arch to oven (leaving equal space left and right).
Insulation and clay instructions on collection
- COMPLETE


COST
For a full installation or an oven in kit form a separate quotation will be supplied subject to your requirements.
Please call our office:
021 556 4312 or 083 255 6355